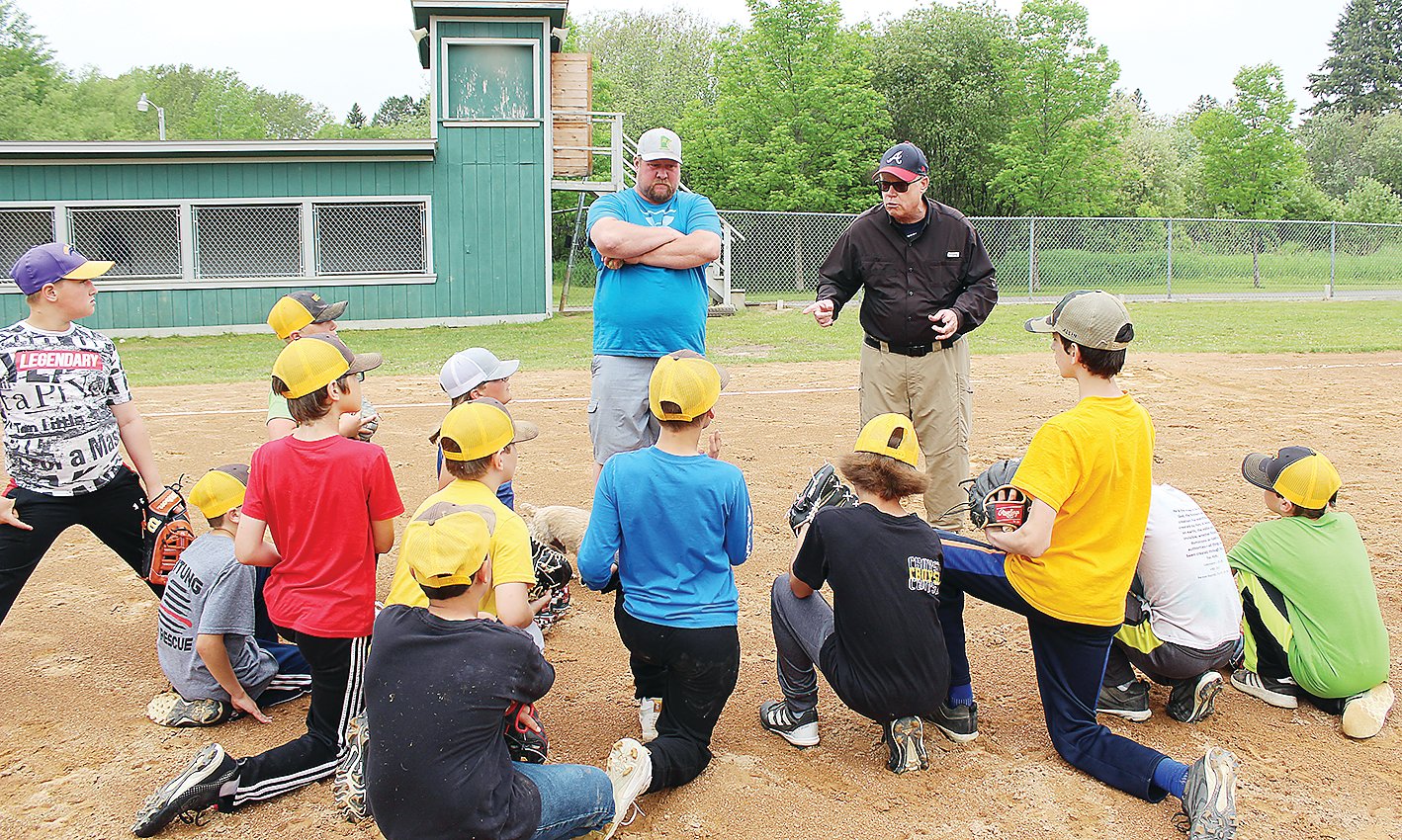 Training advice from a pro sends Ely to the final
Jodi Summit
SUDAN — A World Series ring was a nice capstone to a long baseball career for Jack Roddy, and it offered some inspiration last week for local little leaguers.
Roddy, a longtime talent scout for the Atlanta Braves, brought his ring and his thoughts on the game to a recent youth baseball practice in Sudan. While Roddy's advice was welcome, it's the bling that will likely be the most memorable part of the day for young baseball players.
The large diamond ring, encrusted with diamonds, rubies and pearls, engraved in large letters with his last name, is a precious and precious reminder of the Braves' victory in the 2021 World Series. over $25,000, it's a keepsake that spends most of its time in a safe, Roddy said. Which made Roddy's recent appearance all the more special.
As each of the players got a chance to try out the ring, there were big smiles as they struck the classic World Series pose. Roddy also showed players the smallest united gold band in the World Series, designed for regular use.
Roddy retired at the end of the 2021 league season and now lives in Sudan. He grew up in California, but his parents were from the Twin Cities, and they honeymooned on Lake Vermilion in 1948. When he was little, his family bought their own cabin on the lake, and it's quickly became his "favorite place". in the world." He now calls Sudan his home.
"Baseball," he told the kids, "is all about having fun."
And when scouting for college and pro teams, figuring out if a player was having fun was an important part of the process.
"They play better if they're having fun," he said. "You also want to see a player who hustles 100% of the time, before and during the game." Other important factors are players who show a positive attitude towards their coaches, in addition to hitting hard and throwing the ball quickly.
Roddy shared this advice with young players, some who will continue playing in high school, but others who will likely end their baseball careers after Little League.
"Play every game like someone is watching you," he said.
Working with players of that age is what he likes best, he said.
"It's so much fun," he said. "The little ones are open to suggestions."
Roddy worked on throwing form, fielding techniques and other skills during the morning practice session. The kids listened and pitched in and hopefully will show results for the rest of their summer season.
"It's so much fun helping kids take it to the next level," he said.
He said he was impressed with Little League coach Nate Dostert.
"He really understands," he said. "He knows how to coach."
Dostert's 11-year-old twin sons were in training and were two of the most attentive during the training session. Dostert learned his coaching skills from his father Greg, a longtime Little League coach in Tower-Sudan who started when his boys were old enough for t-ball and went on to coach Little League a once they have grown up. While Nate has taken over some of the Little League coaching duties, Greg is still in action, running the youth leagues for older players.
"Parents should be involved with their children," Roddy said. "They should show up to their games and be enthusiastic. Having a parent around is a great advantage. It doesn't have to be for baseball. Just for whatever interests their child.
Roddy himself has no children.
"My family is the children I helped," he said. "There are 4,000 children who know me by my first name." He stays in touch with many of them and has seen them grow both in baseball and in life, going on to successful careers after they are done playing ball.
major league scout
As a scout, Roddy said his career was really about helping children. And sometimes he could see players grow for four years in high school and then four years in college. He mostly scouted players in Southern California.
He graduated from the University of Iowa, then earned a Bachelor of Science degree at Texas A&M. His first job was as a head coach at a high school in Texas, then he coached and played in the Baseball League independent in Kansas City. .
His first scouting job was for the Los Angeles Angels. But then his boss, Dan Cox, was offered a job with the Braves, and Roddy followed him there and spent the rest of his career with that team.
"Scouts don't want to stand out in a game," he said, adding that he would never show up to a game wearing a Braves cap.
"In my career, I've scouted over 500 kids who have been drafted by a major league team, and many of them have gone on to great careers."
But Roddy is also proud of the fact that he's helped many more players who weren't major league prospects get college scholarships to play ball, as well as signing players to independent league teams.
"There's a place in college ball for most players," he said, "but maybe not on very competitive teams."
Sometimes players who are selected by a major league do not end up with major league careers, but there are other options for those who want to continue playing ball.
"I got a phone call two weeks ago from a player I had scouted who had been scouted by the Red Sox," he said. "He had just been kicked off the team during spring training. He was 23 and wanted to know what he could do. I got him a spot on an independent league team in Montana.
While retired from his job with the Braves, he continued to scout for select college teams, shadowing players from Minnesota and Wisconsin.
Roddy knows there's more to life than baseball. There is fishing, of course.
"All I catch is my favorite," he said. He fishes Vermilion Lake year-round, and now that he's retired he has more time for this second favorite hobby.
Roddy said he's willing to give private lessons to any aspiring baseball player in the area. Please contact the Timberjay if you would like to get in touch with him. Roddy said that while he charged for these classes in the past, he now does them on a voluntary basis.