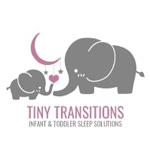 Tiny Transitions offers pediatric sleep coaching specifically for twins
Tiny Transitions, a national leader in infant and toddler sleep coaching, now offers personalized coaching to help twins sleep through the night.
Getting a baby to sleep is hard enough, but twins can increase the difficulty exponentially. Tiny Transitions has a solution with personalized sleep coaching specifically tailored to the unique needs of twins.
Katherine Fehily of Texas runs Tiny Transitions' sleep coaching program for twins and is affectionately known as "the restorative". She is a mechanical engineer turned mom who had three children under the age of 3, the youngest of whom were twins.
"When I found out I was going to have twins, panic set in, so I decided the best way to really learn how to train my kids to sleep was to jump in and become a sleep consultant, which was the best choice I made."
Fehily received intensive training through Tiny Transitions, putting her skills to work in her own home to get her twins to sleep through the night when she was 4.5 months old.
She now offers in-person sleep coaching in and around her hometown of Dallas, Texas, as well as virtual coaching for parents around the world.
"The hardest part of putting twins to bed is when they go off schedule, and you never get a break because a child is always awake," Fehily said. "There is also the problem of having them in the same room. One will wake the other up and both will be tired and grumpy, and most families don't have the space to give them separate bedrooms.
Fehily leverages her background in mechanical engineering as well as her experience with dozens of different sleeping methods to overcome these challenges.
"Each child is unique and their sleep plan should meet them where they are. I take my root cause analysis experience and apply it to each individual set of twins. I can then customize a plan to help them get the rest they need as quickly as possible," Fehily said.
Fehily is part of Tiny Transitions' Slumber Squad, a network of sleep consultants from across the country. They offer in-person or online coaching to train infants and toddlers to sleep through the night and overcome sleep regression. Their training is rooted in finding psychologists, physician assistants, social workers, lactation counselors, and doulas.
Courtney Zentz, president and founder of Tiny Transitions, said insomnia is a significant setback for American families, with 71% of infants waking up at least once in the night.
"Insomnia creates chaos and clutter in homes and affects cognitive and mental health," Zentz said. "Our mission is to get families on consistent and predictable sleep schedules so they can function at their best."
Zentz was named one of Tuck's Top 200 Sleep Professionals and has been named "Best of Philadelphia" sleep consultant four times. She is also viewed by media such as Parentology, Romper, Fatherly, Yahoo, Thrive Global, etc. For more information about Tiny Transitions personalized sleep coaching for twins, visit www.TinyTransitions.com.
About Small Transitions
Tiny Transitions aims to help families adopt healthy sleep habits and restore order in their homes. They offer a very unique approach to sleep coaching and training.