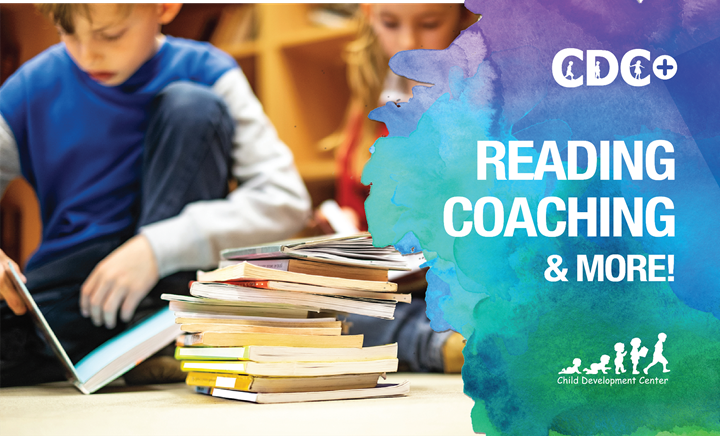 The child development center offers reading coaching
Ellie woke up today with a smile on her face. Every week, Ellie spends time with one of her favorite people, Miss Claire, a certified speech therapist at the Child Development Center. Miss Claire not only helps Ellie read better, but also helps her understand and remember what she reads. That's because Ellie is part of the Child Development Center's CDC+ Reading Coaching program.
The Reading Coaching program is open to elementary children in grades two through five who struggle with reading and reading comprehension. Children will meet with a speech-language pathologist who will administer a language/reading assessment, the results of which will determine the most appropriate type of reading coaching for your child. Children can be seen individually or in small groups, and parents will regularly receive an assessment of their child's progress. CDC+ is the only Casper program to offer reading coaching for elementary school children.
"Reading coaching at CDC+ supports children in their phonological/phonemic awareness skills, reading fluency, word decoding and overall reading comprehension," said CDC+ speech-language pathologist Claire Blackwell. "Reading is such a vital part of everyday life that allows children to learn and encourages imagination! At CDC+, we make reading fun and functional! »
And that's one of the reasons Ellie wakes up every week with a smile on her face. It's not just because she's learning, it's because she's being taught by someone who truly cares about her heart, her mind, and her future. Miss Claire, and everyone who works with CDC+, cares about their children and what they can do to improve children's learning and enjoyment!
"The CDC+ reading coaching was a highlight of Ellie's week," said Ellie's mother, Trudi Holthouse. "She was looking forward to being here one-on-one with Miss Claire. She said: 'It's nice to be with Miss Claire and not have any other distractions. Do you think we can do an hour, mom? I love spending time with Miss Claire.' Reading is an important part of every child's learning journey. Reading coaching has helped my sweet Ellie learn new tools that improve comprehension and fluency. This has helped her maintain her grade level skills and build her confidence. I love what CDC+ offers readers. What a fabulous service for kids who need a reading boost!"
In addition to reading coaching, CDC+ offers occupational therapy, speech therapy and physiotherapy services, as well as audiology and nutrition services. All of these services, and more, are designed to show that it's the little things and the biggest hearts that make all the difference in the world.
To learn more about CDC+ and the services offered, visit cdccasper.org/cdcplus or call 307-237-4477.
---
PAYED BY CHILD DEVELOPMENT CENTER
This article is a promoted article. The views, thoughts and opinions expressed in the text belong solely to the organization that paid for the article and do not necessarily reflect the views, thoughts or opinions of Oil City News, its employees or its publisher. . Please complete this form if you would like to speak to our sales department about advertising opportunities on Oil City News.