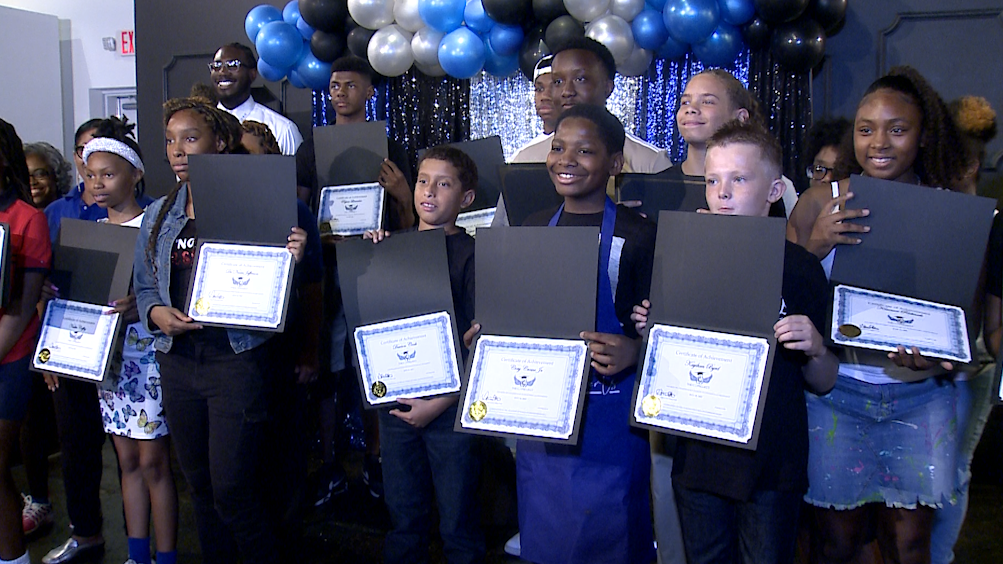 The ACE Project in Louisville works to keep kids off the streets by teaching the art of business
The ACE Project in Louisville is stepping up its efforts to stem the growing threat of youth violence in the city. ACE, or Academy of Child Entrepreneurship, is a seven-month program that helps children in the community start their own businesses. CEO and Founder Rose Smith said the hope is to get children to invest in their future now before it's too late. On Sunday, the organization held a graduation ceremony to celebrate the 21 children in the program, as it marked the end of their work. "Okay, so when I started my business," 16-year-old Danasia Jefferson said. "It was really hard. It looked easy, but when I started to get into it and do my product, I realized it wasn't that easy." Jefferson will be the first to say that it was not a simple process. However, through hard work, she was able to create Ruffles, a clothing accessories company that gives her customers a unique look. However, for Smith, it also gives Jefferson new hope. "Danasia lost her father to gun violence," Smith said. "But thanks to that, she found an outlet." Smith said the program was created in honor of Corey Crowe, his 24-year-old son who was killed in 2014, but serves people like Danasia. People who have been personally affected by gun violence. "It gives them hope," Smith said. "It's what our community, our city and our world lacks. Hope."Graduation now means the student's products are officially launched and on the market, but for Danaisia, c That's the start. "I'm going to stay in the entrepreneurship program for two more years," Jefferson said. "It gives me something productive to do and also something I enjoy doing at the same time."
LOUISVILLE, Ky. —
The ACE Project in Louisville is stepping up its efforts to stem the growing threat of youth violence in the city. ACE, or Academy of Child Entrepreneurship, is a seven-month program that helps children in the community start their own businesses.
CEO and Founder Rose Smith said the hope is to get children to invest in their future now before it's too late.
On Sunday, the organization held a graduation ceremony to celebrate the 21 children in the program, as it marked the end of their hard work.
"Okay, so when I started my business," 16-year-old Danasia Jefferson said. "It was really hard. It looked easy, but when I started to get into it and do my product, I realized it wasn't that easy."
Jefferson will be the first to say that it was not a simple process. However, through hard work, she was able to create Ruffles, a clothing accessories company that gives her customers a unique look. However, for Smith, it also gives Jefferson new hope.
"Danasia lost her father to gun violence," Smith said. "But thanks to that, she found an outlet."
Smith said the program was created in honor of Corey Crowe, his 24-year-old son who was killed in 2014, but serves people like Danasia. People who have been personally affected by gun violence.
"It gives them hope," Smith said. "This is what our community, our city and our world lacks. Hope."
Graduation now means the student's products are officially launched and on the market, but for Danaisia, it's the beginning.
"I'm going to stay in the entrepreneurship program for two more years," Jefferson said. "It gives me something productive to do and also something I enjoy doing at the same time."