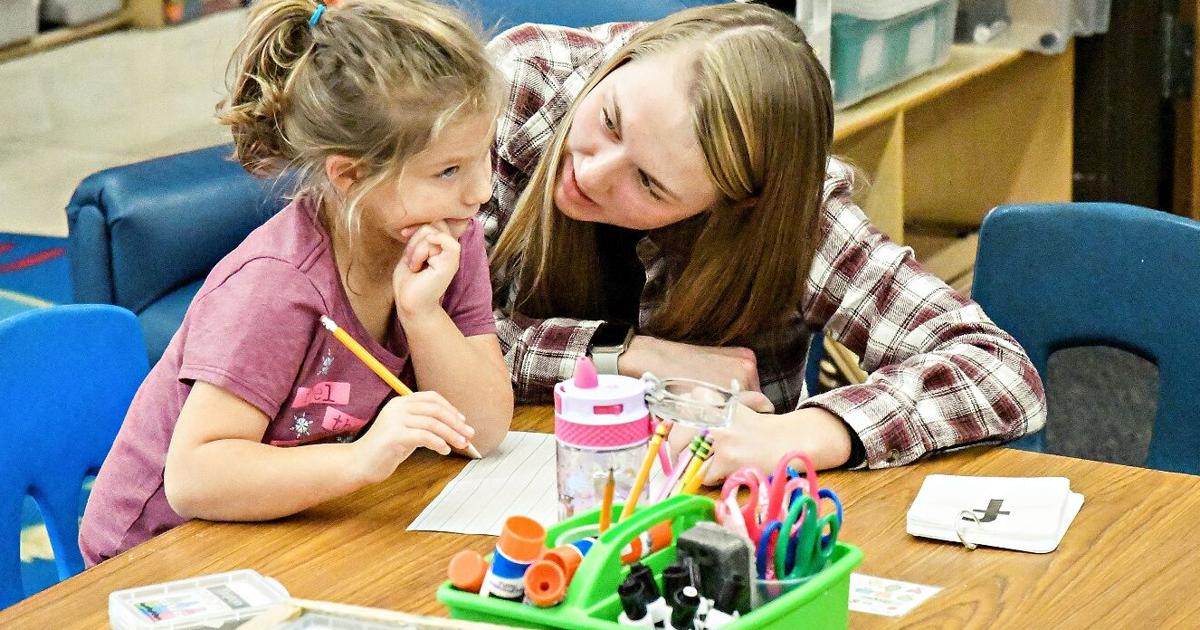 students from the West of Lyon gain teaching experience | News
[ad_1]
INWOOD — Working with elementary school students is what Tory Ulmer, a junior at Lycée Ouest de Lyon, looks forward to three times a week.
"Their family life stories and fun classroom moments are amazing," said Ulmer, one of 13 Wildcats enrolled in Kristin Rockhill's Introductory Education course this semester.
Rockhill began offering the course in 2018, when its university department – Family and Consumer Sciences – began to focus more on identifying and meeting professional and community needs in the district.
"We wanted to have a class that focuses on teaching as a career because a lot of kids in our area are going into teaching, but they just don't have the opportunity to work on those skills at the high school level." Rockhill said.
The Introductory Education course therefore gives students a glimpse into the life of an educator while providing them with a real-life experience in the classroom. It also helps students decide whether or not they want to pursue a teaching degree after high school.
The class, which is offered to sophomores, juniors and seniors, meets every day of the school week. There are no prerequisite courses that students must take; However, Rockhill would prefer students to have completed Child Development I and II before enrolling in Intro to Education if that fits their schedule.
During the first quarter of the semester, Intro to Education students learn about different careers in education, how to create lesson plans, and how diverse educational environments can be.
Then, on Mondays, Wednesdays and Fridays of the second term, students spend the class period working with other teachers in the district.
"They're pretty much the teacher's shadow. Sometimes the teachers – if the student is comfortable – they just throw them up and say, "Hey, take this bunch of kids." In some classrooms, they take the students and do private lessons with them, "said Rockhill.
Students also create bulletin boards for their designated teachers' classrooms and end the semester by teaching an entire lesson on their own.
On days when there is no class, students are back in the Rockhill room where she runs organized classes or brings in staff from West Lyon to talk to the class about other related careers. to education that does not involve teaching.
Not all Rockhill students seek to become teachers, but they still benefit from the Introduction to Education as it gives them experience of working with people.
"If you wanted to be a pastor, if you wanted to be an activity coordinator – any kind of career that works with other people, this class will serve that purpose and give you those professional skills," Rockhill said.
Madisyn Newborg, for example, aspires to become a medical assistant but wanted to take the course to learn how to communicate better with children.
"I will most likely have to see children regularly at my job, so learning how to communicate with them effectively will be important and this course has really helped me learn how to do it," Newborg said.
Two other older people – Sydney Blom and Hadley Dake – are considering pursuing a career in education and said Rockhill's class has helped them prepare for such a path.
To match students with other classes in the school, Rockhill asks them what grade level they want to work in and in what content area. Many of his students this semester are helping in elementary classrooms, although one has requested to be in a high school Spanish class.
"Because they are high school students, I tried to find a classroom that has a ninth grade class so that there is an age separation," Rockhill said.
Grade 2 teacher Jill Meyer has been assisted by Intro to Education students in her classes for the past few years and enjoys the chance to bond with them as they in turn get to know her elementary students. Sophomore Amber Rose – who wants to become an art teacher – worked with Meyer in the second term of this semester.
"They love her because she's very creative," said Meyer, explaining how Rose draws a picture for the class each day she visits that goes to a lucky winner who is selected at random.
For Rockhill, one of the most interesting aspects of his students working face-to-face with younger peers is the relationships they form with these students. At the same time, high school students are able to appreciate everything teachers do for their job, which may not be apparent from a student's perspective.
"Like 'OK, that's why they're doing this and that's why we organize the way we do it,' it kind of gives them that a-ha moment," said Rockhill.
[ad_2]