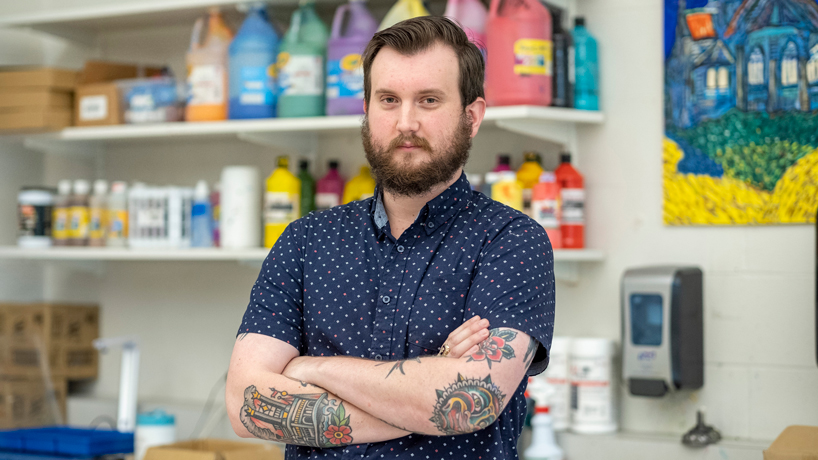 Scott Boyd goes from graphic design, target shooting to teaching
[ad_1]
As a member of his varsity athletic team, Scott Boyd used his keen sense of focus and steady hand to knock small discs of clay out of the sky in an instant with the pull of a trigger.
He doesn't use that steady hand to pull a lot these days, however. In recent years he has turned to art and a new career in arts education.
While competing as an undergraduate student at Lindenwood University, Boyd became interested in graphic design after first studying biology.
"It wasn't something I was really looking for," Boyd said. "I didn't really take art classes at school. I don't think I realized that art was a serious professional endeavor until I went to college.
After earning a bachelor's degree and working in graphic design for several years, Boyd came to the University of Missouri-St. Louis to earn his teaching certificate through the Teach in 12 program. The College of Education's unique program allows post-baccalaureate students interested in teaching to obtain their certification in approximately 12 months.
Boyd was already well acquainted with art and design, and the program quickly introduced him to structuring lesson plans, classroom management, and pedagogy. He also learned to adapt quickly to the unexpected in the classroom. It all came in handy this fall as he began his first teaching job as an art teacher at the Lucas Crossing School Complex in Normandy.
Considering his family background, the career change is not too surprising.
"I come from a family of teachers," he says. "I knew some things very early on behind the curtain. My father was a teacher. Her sister was a teacher and administrator. My brother is in education and his fiancee is in education. So I am surrounded by teachers. I decided to join the club.
As a child, Boyd first learned to use a shotgun from the Boy Scouts. From there he became interested in deer hunting and other hunters introduced him to competitive target shooting.
The sport involves different games designed to test the accuracy and speed of shooters with a shotgun. The most common competitions are trap shooting, clay pigeon shooting and sport clays. Many targets – orange clay saucers – are thrown in front of the shooter from different angles depending on the game, often simulating hunting scenarios.
Boyd competed for a shooting team sponsored by a small shooting club in Pevely, Missouri, throughout high school. The team competed in tournaments across the Midwest, and the experience helped Boyd hone his marksmanship. Eventually he caught the attention of the Lindenwood sports team and got a scholarship.
However, joining a top team with multiple national titles was difficult at first, as Boyd was no longer the star.
"In high school I was shooting for a small shooting club, and in that group of shooters I was a big problem," he said. "Then I go to Lindenwood, which is recruiting all over the world. "
Despite the initial adjustment, Boyd was grateful for the experience. He was able to travel a lot and shoot with teammates who were going to compete in the Olympics. He also discovered a passion for art and graphics when he was not on the range.
Boyd always had a knack for drawing and was only doing "poor" in his biology classes, so he decided to change his specialization. After graduating, he went to work as a graphic designer at a clothing company, Affiliate Merchandise Group.
"My first six months or so there, I realized how little I knew," Boyd said. "I think that's how a lot of people get into their first jobs, but I had an amazing mentor in this business – a crazy good illustrator."
The company primarily designs custom t-shirts for fraternities and sororities, but it also has a retail side, which has allowed Boyd and his colleagues to get creative and experiment with new designs.
"It was fun because we got to explore different ideas that were turning our heads," Boyd said. "My creative director was just a great guy, and we had a weekly meeting where we took some cool stuff that we found on Instagram that other artists were doing and had half hour art chats. . "
Boyd also worked on art projects in his spare time to express his creativity. One of them even caught the attention of one of his favorite musicians, BJ Barham, the singer and guitarist of the alternative country group American Aquarium. Boyd found inspiration for his works in Barham's lyrics, which often focus on working-class labor issues.
The song "Brightleaf + Burley" describes the decline of the American Tobacco Company's Pall Mall and Lucky Strike factories in North Carolina, where the group originated. A line in the chorus, "Greetings from Tobacco Town, USA," made Boyd think of some bold vintage travel postcards.
"Design is digital collage," Boyd said. "Basically, I took all of the Pall Mall and Lucky Strike ads that featured tobacco growers, and I cut them out digitally to make the letters. It's a postcard that says "Greetings from Tobacco Town USA", but it incorporates these photos of these farmers as described by the American Tobacco Company. "
Barham messaged Boyd directly on Instagram to let him know how much he loved the design and inquired about the possibility of using it for American Aquarium merchandise in the future. It hasn't been used so far, but Boyd is happy Barham enjoyed his work.
While working as a graphic designer was fulfilling, Boyd realized he wanted a more stable career, and he believed education offered it.
The streamlined process and affordability of the Teach in 12 program appealed to Boyd. He also found some interesting lessons on the practical issues of classroom management, particularly the course given by Assistant Professor Jennifer Fisher. These lessons helped him think about how to move a class forward without freezing or overreacting.
"Every week she did a worst-case scenario, where something strange that's going to happen at some point does happen," he said. "How would you handle this? What's the first step? How to get out of it?
Fisher only had the opportunity to work with Boyd in person a few weeks before the start of the COVID-19 pandemic, but he impressed her during that short amount of time and later while teaching online.
"He has been able to adapt to a fully online classroom environment and has managed to set himself apart by submitting top quality programs and illustrations on a regular basis," she said. "Scott seemed to have an innate sense of what would work in the classroom, and I really enjoyed working with him."
He has only been in his new position at Lucas Crossing for a few months, but thanks to UMSL he is ready to deal with whatever comes his way.
"Every day something totally new happens at work," he said. "It's a bit of controlled chaos, but I feel well equipped to meet the challenges in education.
Short url: https://blogs.umsl.edu/news/?p=91103
[ad_2]