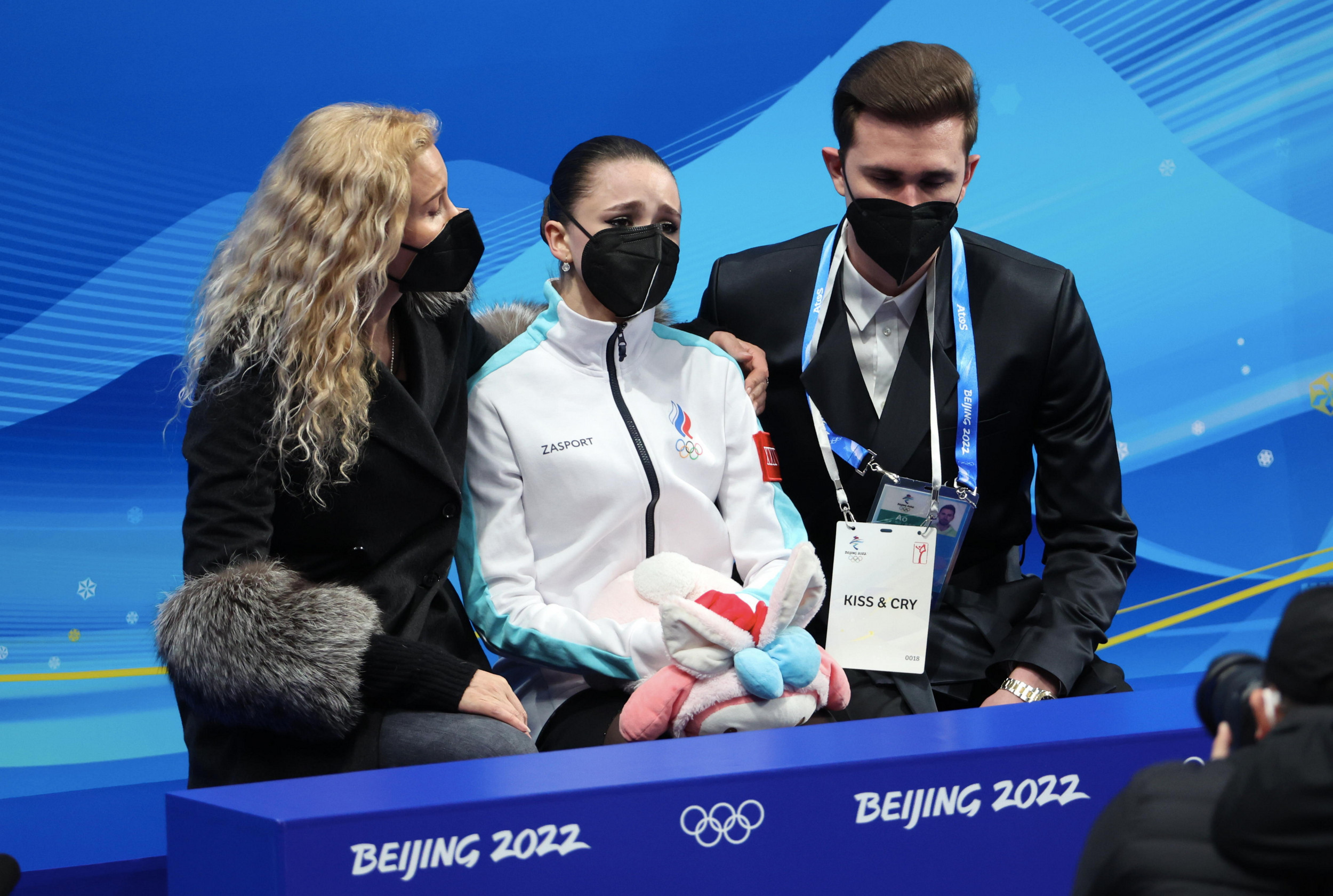 Russian skaters 'collapse' amid 'extremely unhealthy' training: Ashley Wagner
Kamila Valieva and the other two top Russian figure skaters in the women's individual competition at the Beijing Games on Thursday "collapsed in their own way" while experiencing an "extremely unhealthy" training style after the results were announced, said Ashley Wagner, a commentator and former US Olympic figure skater.
After fellow Russian Olympic Committee (ROC) skaters Anna Shcherbakova and Alexandra Trusova finished in first and second place respectively, Valieva was seen sobbing and then walked silently past reporters with a mask over her face.
Valieva, 15, who was at the center of a doping controversy and heavily favored to win the individual event, took fourth place behind her teammates and Japan's Kaori Sakamoto.
Trusova also broke down in tears and initially refused even to step onto the podium for the ceremony, while Shcherbakova told reporters she was happy with her performance but also felt "this emptiness inside ".
"And it's chaos everywhere, and you see how this pressure cooker environment that these young girls have been put in is so incredibly unhealthy," Wagner said. "Each of them had a different reaction and each of them fell apart in their own way. Shcherbakova, it's her Olympic gold medal, and she's standing alone with a teddy bear. I don't I'll never forget that moment because it was just sad."
Wagner spoke about the emotional toll of competition during USA Network's coverage of the Olympics.
Although she entered the long program on Thursday with the best score in the short program, Valieva gave a shaky performance. She fell twice, tripped and slipped, earning a free skate score of 141.93, which was added to her short program score of 82.16 for a final tally of 224.09.
Wagner said that right after she came off the ice, Valieva's coach Eteri Tutberidze "immediately started asking her why she threw that."
She said the things Valieva's coaches said "show how extremely unhealthy this training camp is."
Wagner also said Valieva's performance was "inevitable" and that she didn't need to hear the corrections and negative feedback from her coaches as soon as she came off the ice.
While many criticized the decision to allow Valieva to compete in the individual event despite her testing positive for a banned heart medication, the skater received an outpouring of support from those worried about the impact of the high pressure situation on someone so young.
Some have also alleged that coaches and other adults like Tutberidze, who some said he had a harsh teaching style, were responsible for getting the drug into his system.
Wagner noted the impacts the doping scandal is likely to have on Valieva's career in the future, and said "the tragedy here is that we will never know how good she really is." She was put in the position "by so many adults who let her down" and then became "the only one who carried that weight, not the adults who put her in that position," Wagner said.
Wagner also spoke of seeing Shcherbakova after she had just been named an Olympic champion.
"She's on her own. Her coaching staff left either to console Kamila or to help her teammate, Alexandra Trusova, who is screaming that she shouldn't have been in second place," Wagner said.
In what Trusova later described as an "emotional" moment, she shouted "I hate this sport" at the side of the rink and added that she "won't be going on the ice again," the report reported. Associated Press. She later said her outburst was the result of the disappearance of her family and her dogs, but did not say she would be competing at the world championships next month.
The careers of Russian skaters are usually very short, so much so that 17-year-old Shcherbakova was almost immediately asked if she would retire after winning gold on Thursday, AP reported. According to AP, no woman coached by Tutberidze has ever had an elite skating career long enough to become a two-time Olympian.
Wagner said it underscores the importance of treating people like Valieva as "humans first, athletes second", adding that it is not good for athletes "to be treated as if they are disposable".
Update 02/17/22, 3:35 PM ET: This story has been updated with additional information and information.