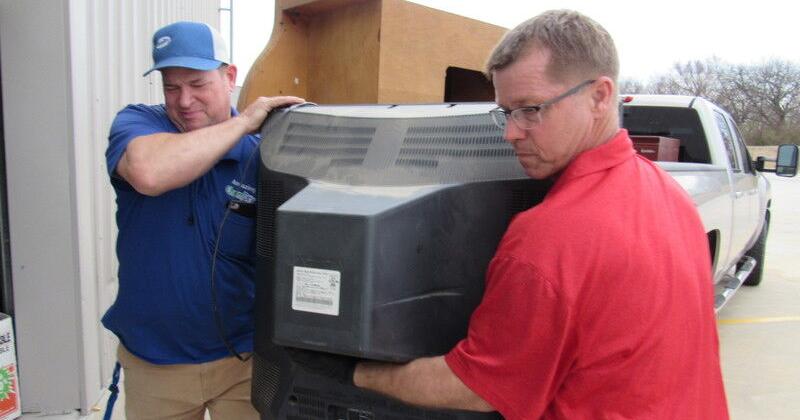 Okie from Muskogee: Felts enjoys mentoring young people | Schools
Robert Felts says that except for a few teachers, he had no adults to guide and steer him in the right direction.
"That's what burns my fire to be involved now," he said.
Felts is now looking to be a mentor through youth wrestling and the Royal Rangers faith-based scouting programme.
Felts said he was exposed to Christianity and was saved as a child.
"But I didn't practice it and walked away," he said. "I come from a statistically broken home, from poverty, I left home early."
He said he had various problems in his early teens.
"It just kept going and going and going and as a young adult I didn't slow down and ended up in jail," Felts said. "Coming into life as a born-again Christian, I was able to change my life."
Felts said he began attending Muskogee's first assembly after his release from prison in 2003. He soon became active in the church, joining overseas mission trips and youth ministry. .
"Having a relationship with my Lord and Savior is what made the difference," he said.
Felts said he has been involved in property maintenance for 20 years and recently began acquiring his HVAC journeyman license. He says he got a plumbing apprentice's license. He said he was working on getting contractor licenses in those areas.
"That seems like the next thing in my continued evolution to be a good father, a good family man, a good citizen, a good productive member of society," he said.
Felts now seeks to pass on these values ​​to his own children. He said his sons have been involved in the Royal Rangers and youth wrestling. Her daughter, Addera, is active in her school band and in girls' ministry at church. She also has a newly acquired interest in tennis.
Royal Rangers
a chance to mentor
Robert Felts said the Royal Rangers gave him the opportunity to mentor boys, as well as his own sons.
He said he got involved when his sons started attending school.
"Once I did a few camping trips, I was kind of hooked," he said. "When I saw the kind of ministry, I got involved as a commander in 2016."
He said he was responsible for raising funds for the Royal Rangers troop at Muskogee's first assembly. He helped run a recent flea market, which raised $3,000 to send 20 troupe members to a regional Camporama.
One of the Royal Rangers' highlights each year is the Spring Trace, a competition that tests skills used by pioneers before 1820, including starting a fire with flint and steel, Felts said.
"You have flint and steel and tinder," he said. "You put a charred piece of cloth in your bird's nest, ignite your flint and steel, put a spark on it, and blow it until it enters your bird's nest and ignites a flame."
Participants also learn how to fire a black powder rifle and throw tomahawks.
Campout provides
many lessons
More recently, Felts and the troop of Royal Rangers camped out during the mid-February snowstorm.
He said this year's Frontier Camping Fellowship winter camping event has been canceled twice.
"But we decided we weren't going to let that stop us," he said. "Our boys had wanted to go camping, and they didn't want to hear us tell them, for the second time, the event had been cancelled."
The troop of the first Muskogee assembly camped on a hill behind the church.
"We cleared a spot, set up our tents, plugged in our wood stoves and went camping anyway," he said. "We had our tent at 60 degrees with our wood stove.
Some boys were allowed to sleep in the church gymnasium, he said.
"It was tough," he said. "The biggest challenge for me was keeping our firewood sorted and running. Even though we were camping and the boys were having fun, they still had to keep their hats on, their gloves on, keep their feet dry.
Felts said the boys learned to exist in cold weather.
"You dress in layers, you keep your fire burning, you have to stay dry," he said. "They also learned something about commitment. We are committed to doing this.
wrestling training
teach discipline
Felts also found a way to mentorship through youth wrestling programs.
"In youth wrestling, you can be just about anywhere as long as you have a program," he said. "All these are private tournaments."
He said he got involved in a 15-and-under youth wrestling program because he needed a coach.
"I became a coach at Muskogee a few years ago in 2018," he said. "We called it the Rougher Wrestling Club."
However, the program was disbanded when the COVID-19 pandemic hit.
Wrestling requires a lot of discipline from mentors and participants, he said.
"Some kids can see the time spent and the product they get out of it," Felts said. "If you see a child who only sleeps one night a month and you see a child who sleeps 10 nights a month, the child who sleeps 10 nights a month can see the difference that his 10 nights have made to him. C is directly related.
Felts said he seeks to show his wrestlers that hard work pays off.
"Discipline is not a bad thing," he said. "Adversity is everyday. You can lose a game, get up, go back and struggle and win a game. But you have to go back.
HOW DID YOU COME TO BE A MUSKOGEE OKIE?
"My family was born and raised here. My dad is from the Missouri area.
WHAT DO YOU LOVE MOST ABOUT MUSKOGEE?
"The small town smells of community. You can still greet people at the intersection, still know people. It's so easy to get to know the people of the city. Obviously, the options for faith are many. Many sincere people of faith and ministries.
WHAT MAKES MUSKOGEE A BETTER PLACE TO LIVE?
"Maintaining the focus on education. The recent steps we have taken in education are phenomenal. I think they are going in the right direction. If we stay on this path, we will attract teachers, we will attract families, we will attract a lot of things.
WHICH MUSKOGEE PERSON DO YOU ADMIRE THE MOST?
"I can give you some of my top contenders. John Ritchie was my sixth grade teacher. Betty Palmer was my fifth grade teacher at Edison, she was a very big influence, very instrumental in my life. My pastor has a great influence in my life. John Richards introduced me to the Royal Rangers. He really is a good example of someone who can devote himself to something selflessly.
WHAT IS THE MOST MEMORABLE THING THAT HAPPENS TO YOU AT MUSKOGEE?
"The ice storm of 2007. I remember that was a time when I really started to see people help right and left. You saw people pulling people out of ditches, cutting down their trees, cleaning up their yards. People helping people right and left.
WHAT DO YOU DO IN YOUR FREE TIME?
"Fish."
HOW WILL YOU SUMMARY MUSKOGEE IN 25 WORDS OR LESS?
"Wonderful community, lots of growth opportunities, beautiful surrounding area for entertainment and family. Deeply rooted in our youth and our community.
MEET Robert Felts
AGE: 49 years old.
HOMETOWN: Muskogee.
EDUCATION: Edison Elementary, Whittier Elementary, Alice Robertson Junior High, Muskogee High School. GED obtained.
OCCUPATION: Performs maintenance work. Rob's Repair Services.
FAMILY: Wife, Wendy Felts; five children, Alexander, Keiran, Bobby, Addera, Zachariah.
CHURCH: Muskogee First Assembly of God.
HOBBIES: Hunting, fishing, working on cars, youth ministry, male fellowship, hot rod shows, watching old westerns.