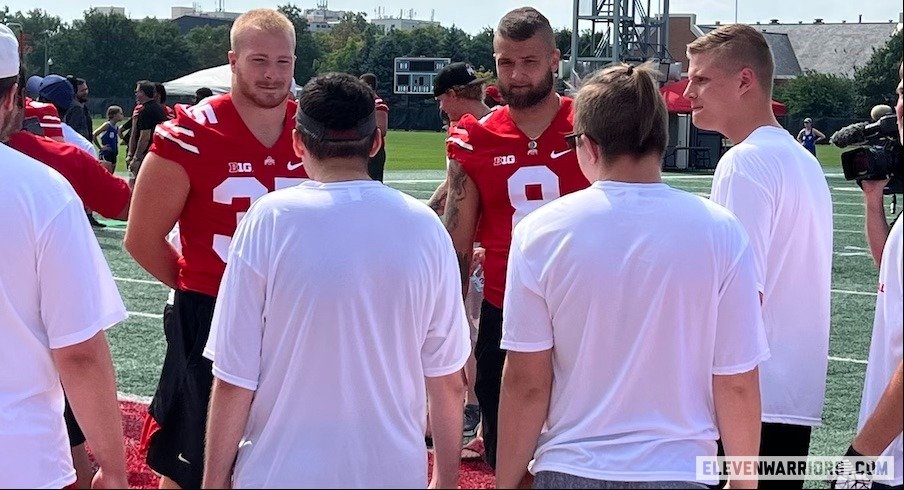 Ohio State players enjoy coaching special needs athletes at Special Skills Football Invitational
Of all the camps held at the Woody Hayes Athletic Center this summer, there may not have been one that brought more joy to camp attendees and their instructors than the Special Skills Football Invitational on Friday.
The Special Skills Football Invitational is an annual camp that brings people with special needs to the Woody Hayes Athletic Center for a day of football practice and fun. About 200 people of all ages (eight and up) from across Ohio attended the camp, where a group of 100 volunteers including more than 30 Ohio State football players coached them through a variety of stations where they went through drills similar to those the Buckeyes go through in their own practices.
Ohio State today hosts the ninth annual Special Skills Football Invitational for athletes with special needs. A group of Ohio State football players are there to coach the campers through drills. pic.twitter.com/nCTtWts34D

— Dan Hope (@Dan_Hope) July 22, 2022
It was a rewarding experience for both the campers and the Buckeyes who had the opportunity to spend time with them.
As Ohio State tight end Cade Stover saw the smiles on attendees' faces, he said it reminded him of why he came to love football in the first place.
"A lot of times you forget, because it becomes such a normal everyday way of life. Then you see people who don't do it every day and how excited they are, and that makes you appreciate what you're doing more" "I mean, that's what it's all about, really. The game is still way bigger than us."
Ohio State left guard Donovan Jackson was apparently having as much fun as anyone as he dragged his campers through his drill station, reminding them not to leave the ball on the ground and asking them to show off their dances of touch. He said after camp that being able to give back at an event like Friday "means everything to me."
Donovan Jackson coaches campers during a drill at the Special Skills Football Invitational. pic.twitter.com/JXdjSYcSkN

— Dan Hope (@Dan_Hope) July 22, 2022
"I feel like everyone loves football, everyone just wants to be around football. So just being here with everyone playing the sport that we all love to play is a great feeling. said Jackson.
Ohio State kicker Noah Ruggles and punter Jesse Mirco served as quarterbacks for the day, throwing passes to campers who were then cheered on by Jaxon Smith-Njigba, Jordan Hancock and Cameron Martinez as they ran in the end zone to score touchdowns.
Ohio State specialists Noah Ruggles and Jesse Mirco play quarterback at the Special Skills Football Invitational. pic.twitter.com/wWGuNMwyHs

— Dan Hope (@Dan_Hope) July 22, 2022
"I had so much fun today," Ruggles said. "It fired me up. They were catching those touchdowns and partying and stuff and I was like, 'Okay, I like the energy.' I mean, they brought the energy and it helps me. It's a lot of fun.
Smith-Njigba said it made him happy to see the campers happy, and he did his part to make sure they enjoyed their time on campus.
"I love seeing people smile," Smith-Njigba said. "So if you can crack a little joke or something or just tell them they're doing a great job, they take that to heart. And it's just a special experience. It's a special place that I'm in right now just to uplift people, and it's an amazing opportunity. I'm happy to be here right now.
Martinez said he was taught the importance of giving back since he was a kid, so it was important for him to make time to be at camp on Friday.
"For me, it's a blessing," Martinez said. "My mum always insisted on it, it's always important to give back. These are the fans and the people who always show their love and support on Saturdays. It's great that I can be there and just have a good time.
Martinez also said he was impressed with the campers' performance.
"I actually find a lot of athletes here," Martinez said. "A lot of people look really good, grab the ball and do things like that. So we had a lot of fun.
The Buckeyes had little trouble bonding with their visitors on Friday, and Stover thinks that shows how football brings people together from all walks of life.
"I don't think it really matters how you look, how you act, what you think, what you look like. If you love football, you're going to find a way to learn to love it," Stover said. "You just have to find a way for kids to learn and stick with it, and that's what we're trying to do."
Smith-Njigba shared a similar sentiment.
"The sport just brings together a lot of cultures, a lot of different people, and to have this camp here and just me and some of the Buckeyes, it's a great opportunity," Smith-Njigba said.
Stover said he thought about the experiences he would want his child to have if he had a child with special needs. And that's exactly why Stover volunteered his time to help coach camp on Friday.
"For me, if these were my kids, I would want my kids to have people here training them to admire and stuff. So it's really special to me, and I think the kids really like it," Stover said. "Seeing all the enthusiasm, how really excited these kids are to be here to be a part of this, it really makes you appreciate where you are and what you're doing."