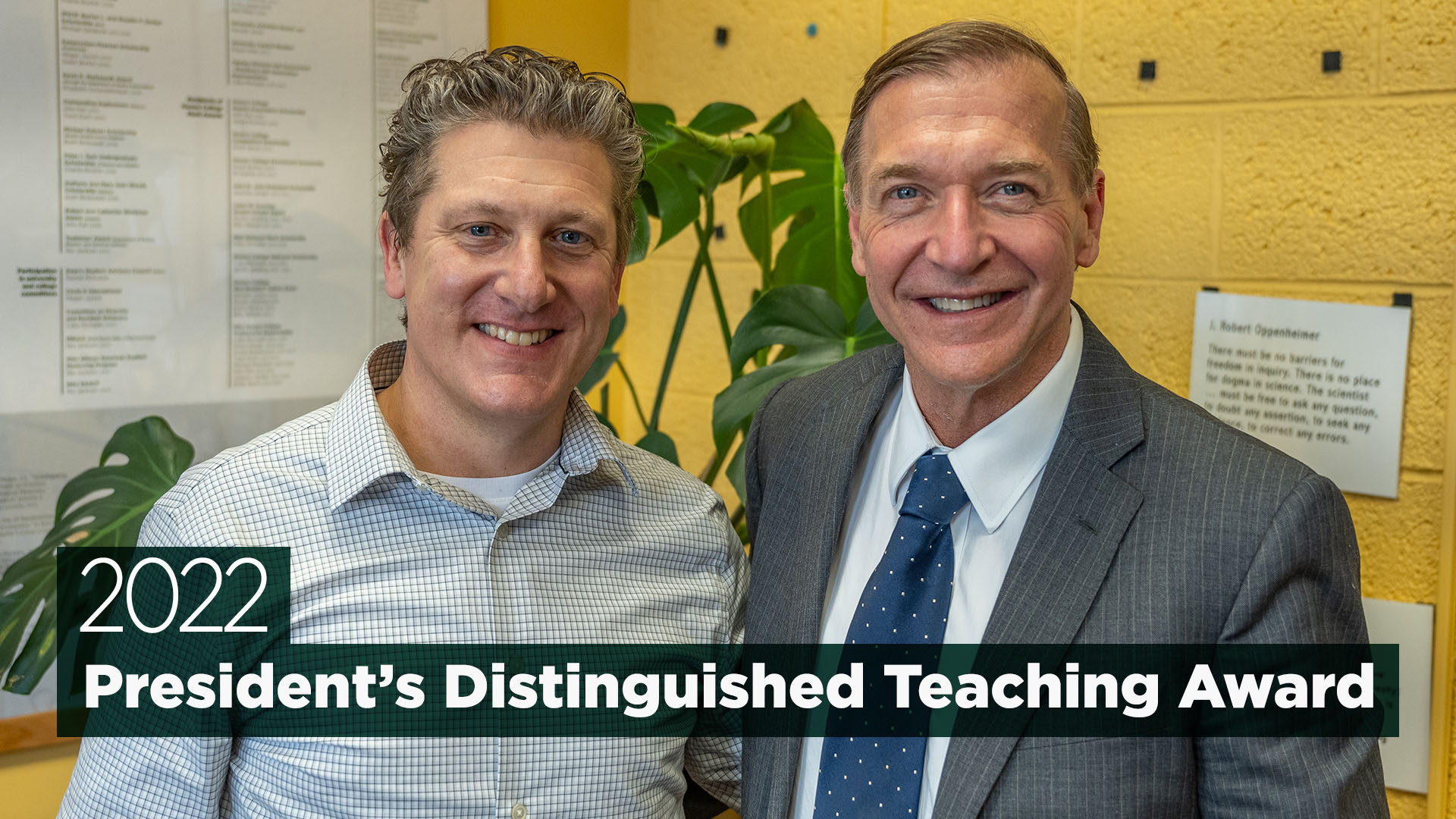 MSU's Waller Receives President's Distinguished Teaching Award | MSUToday
A Michigan State University faculty member known for his scholarship, commitment and innovation in the classroom recently received the university's highest teaching honor during a surprise visit to class of university leaders and colleagues.
To enthusiastic applause, MSU President Samuel L. Stanley Jr., MD, presented the 2022 President's Distinguished Teaching Award to John Waller, associate professor of the history of medicine. Stanley was joined by Vice Provost Mark Largent, College of Social Sciences Dean Mary Finn, Associate Dean Walter Hawthorne and others.
"Supporting the success of our students is MSU's most critical mission, and it is brilliantly reflected every day by our world-class faculty in their classrooms and beyond," Stanley said. "I am proud to convey the university's esteem for such an exemplary researcher and teacher as Dr. Waller with this award. And it's so appropriate to announce it like this, in front of his students.
The annual award recognizes faculty who demonstrate, among other qualities, energy and enthusiasm for engaging students and empowering them to embrace change, extend learning beyond the classroom, and influence others to improve their teaching by sharing their knowledge.
"I'm very touched and honored and slightly embarrassed," Waller joked to laughter from his students and visitors, jokingly steadying himself in a nearby chair. Calling the honor a group effort, Waller singled out the contributions of Jenn Arbogast, the academic specialist he says was "absolutely instrumental" in building his flagship program, the Social Science Researchers Programsince its creation in 2013.
Waller has built an impressive career of teaching, scholarship, and publishing. Specializing in the history of medicine, he has published seven books that explore the nature of scientific discovery, the lives of child factory workers in the 19th century, the history of American medicine, and the mass psychogenic illness expressed by compulsive dancing in the 16th century, among other subjects. Waller holds a bachelor's degree in modern history, a master's degree in human biology, another master's degree in the history of science and medicine, and a doctorate in the history and philosophy of science.
Hawthorne, who oversees Waller's work in the Social Scientist Program, cited in his appointment letter Waller's energy and enthusiasm, ability to translate complex ideas, impressive appraisals and accolades, its interdisciplinarity and commitment to diversity, among other traits.
"Waller sees lessons in the 'traditional' classroom as a step toward empowering students to shape their own lives and impact the lives of others," Hawthorne said. "Through lectures and seminars, it inspires students to tackle big ideas and ways to meet the world's great challenges."
The Social Science Scholars Program recruits approximately 20 promising high school students to take one interdisciplinary seminar per semester for two years in a group setting, participate in a study abroad program, and complete an internship.
"The Social Scientist Program, and his leadership within it, is one of the defining characteristics of our college," Finn said. "Each year, we are excited to see what will come out of the program. Dr. Waller embodies what a scholar-teacher can be.
The program is a compendium of Waller's pedagogical approach: participatory, intellectually humble and tirelessly curious. In addition to being available in class, Waller is known for his home consultations with students on essays, grants, and research, often late into the evening. Waller has been particularly successful in encouraging his students to fight for and win prestigious national and international awards.
Per tradition and the stipulations of the award, the President confers the President's Distinguished Teaching Award during unannounced classroom visits. Stanley's group was joined by retired economics professor Carl Liedholm, who created the endowed prize with his wife, Margaret. Liedholm said it was crucial that the president "get down on the factory floor" and present the award himself – which Stanley clearly liked.
"I really appreciate the chance to see you all," Stanley told Waller's class. "It really validates the choice to be here in person with you when I see your excitement and enthusiasm for John to receive this award."