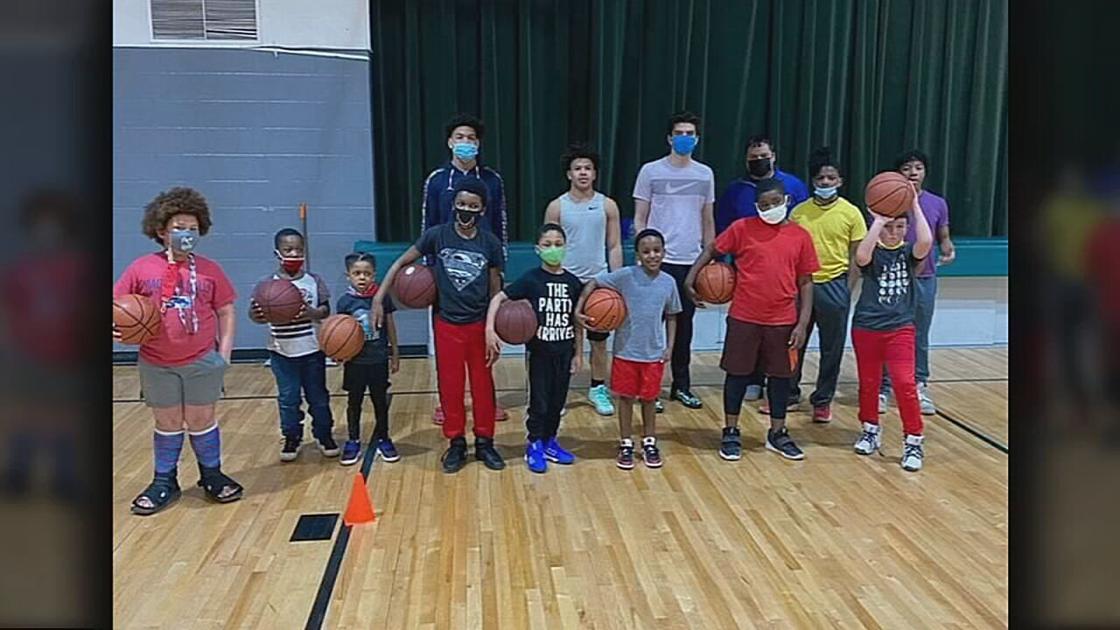 mentorship program targets at-risk student-athletes in Louisville | New
LOUISVILLE, Ky. (WDRB) – A Louisville organization is trying to help at-risk student-athletes make the most of their talent. This is part of a mentoring program created to keep student-athletes on track. This includes the classroom, the sports field and the community.
And according to some of the parents connected to the program, it works.
Jackie Jewell has a 17-year-old son – a talented high school basketball player – and a 9-year-old son, who hopes to follow in his brother's footsteps.
"It's something positive for them to do," Jewell said.
She said the Delta Foundation and its CEO was a game-changer for her sons.
"He basically took something our kids love to do – basketball – to get them into the facility," Jewell said.
Jewell is proud of her sons' athletic achievements, but she wants to make sure they both stay on track. That's why she got them involved in the mentoring program.
"DELTA really means developing educational leaders through athletics," said Jason Scrubb, deputy director of the Delta Foundation. "Our main focus is education, but we use basketball as one of the attractions of the program."
The organization was founded by former Jefferson County Public School teacher and coach Wes Hinton. Last weekend, Hinton and a colleague combined their resources and chatted with students at a basketball camp.
"It's one of those things, like you said, two heads are better than one," Scrubb said.
The program is hosted inside the Creative Center in the Portland neighborhood. As Scrubb said, the gym and basketball are part of the toss, but they're not the primary focus.
Gary McCawley, Delta Foundation academic coordinator and former school teacher, spent Friday setting up the computer lab for "Hoops and Homework," an after-school program that helps students in the field and in the classroom. McCawley admits it's not always easy to motivate young people, but says it comes with the territory. "We see setbacks sometimes, and I think it's natural."
McCawley says they can often read the faces of students who are having a bad day. He said, "We're trying to be a little proactive and say, 'Hey, you don't look like your normal being today, what's going on?' and a lot of times it takes a little bit, but a lot of kids will open up and tell us what's going on. And if we need to have a one-on-one chat with them, that's what we'll do.
"You can make mistakes and you can get over it," Scrubb said.
Scrubb said a poster of her son, hanging on the walls of the gym, was proof of this.
"He just arrived in the NBA," Scrubb said of Jay Scrubb. "Selected No. 55 in the 2020 draft."
Jewell's oldest son is a confident and confident Mr. Basketball candidate in Kentucky, and after a few years in the mentoring program, she is seeing positive changes in her youngest son.
"I noticed that his confidence level has really increased," she said. "He's a bit more focused in school as well. And I think he's a bit more prepared to participate in the program."
In fact, after witnessing positive results with her sons, Jewell brought two of her nephews to the Delta Foundation.
"I saw a change in all of them," she said.
The program is funded by grants and donations and is free to anyone who wants to come. But young people are expected to participate in community service projects.
"I really believe in paying it forward," Jewell said.
Each week, more than 100 young people pass through the doors of the Creation Center. The "Hoops and Homework" program starts in just a few days, but program officials have said they have long-term goals and plans for the youth.
"We have that kind of well-rounded approach to helping our kids be successful," Scrubb said. "Each year we're going to see how many kids we can get above a certain GPA, how many C's we can turn to B's, how many B's can we turn into A."
To find out how to get your child involved or donate to the Delta Foundation, Click here.
Copyright 2021 WDRB Media. All rights reserved.