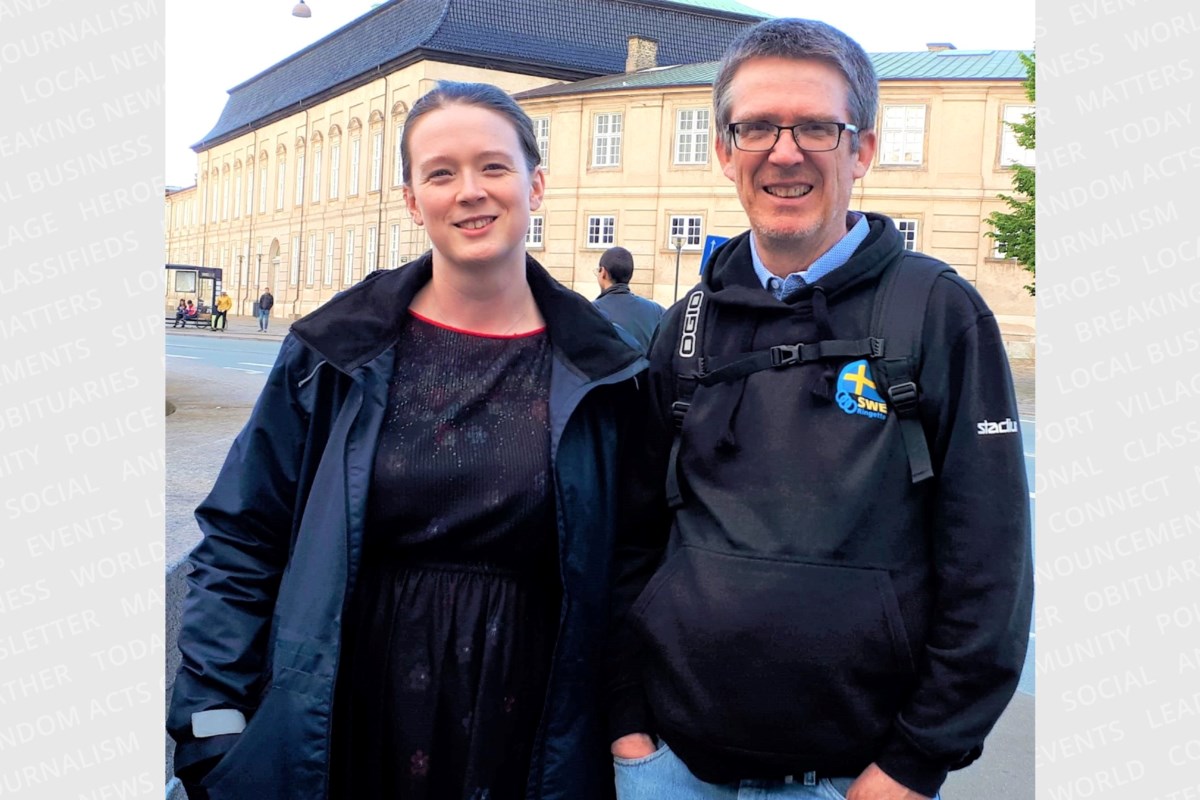 Local father-daughter duo seize rare coaching opportunity
"It's the best result I could have ever imagined," said Sault Ringette president Bruce Graham, who will coach the Swedish team with his daughter Rachel at the upcoming World Ringette Championships in Finland.
It's not often that a father is on the same coaching staff as his daughter at any level of competition, let alone on the international stage.
But for Sault Ringette president Bruce Graham and his daughter Rachel, that dream will come true next month when the duo coach Sweden's national team at the World Ringette Championships in Espoo, Finland.
Born and raised in Sault, Rachel played ringette from the age of five through her early adult years before moving to attend school.
Rachel's dad had the opportunity to coach her in the U16 and U19 teams while she was still living in town.
After graduating from Yale University, Rachel moved to Sweden for work, but her passion for ringette never faded. She got involved in the board of the Swedish Ringette Federation and even played with the Swedish national team as a goalkeeper in 2017.
"She's having a lot of fun," says Bruce Graham. "Rachel really likes what she's doing now. She really immersed herself in Swedish culture, and she even speaks Swedish fluently.
The proud father has been involved in Sault ringette since 1997 and has been coaching for nearly 20 years. Graham rose through the ranks, coaching the house league, region and eventually the top tiers of the province – leading a wide range of age groups along the way.
The World Ringette Championships are held every two years, but due to the pandemic, this is the first time since 2019.
Graham was head coach of the Swedish national team three years ago when they won gold in the President's Pool on home soil, and he's looking forward to defending that title – this time, with her daughter by her side.
"Being able to train with your daughter at any level is a real privilege," he says. "The idea that I'm going to have one of my daughters on the bench with me is mind-boggling. I still haven't understood. Doing that on the international stage is just the icing on the cake. I don't know how to describe it.
The Swedish national team includes a mixture of players. Many make the 2019 squad, while others work their way through the roster for their first opportunity at a world title. The women are between 17 and 29 years old.
"It's similar to women's hockey where you have a pretty wide age range," Graham said.
The head coach was in Sweden for three weeks in May, spending time with his daughter and the national team ahead of the upcoming championship.
"It's an amazing country," he says. "Believe it or not, its landscape resembles that of Sault Ste. Married. You would have a hard time telling the difference between northern Ontario and northern Sweden. They are very similar.
Although it's been a long journey, Graham credits the Sault Ringette Club and its programming for providing him with the space to learn, adapt and navigate his way into this international head coaching role.
"It's a very strong organization we have in Sault," he said. "The opportunities the club has given me are the real reason why I'm even able to do this in the first place. Their ability to deliver top-notch, world-class programming is why I'm where I am. am today.
The club is hosting a "come try" on Sunday, September 25 at 6:00 p.m. at the John Rhodes for any child who wants to try ringette.
Although he has a genuine respect for other sports like hockey, his love for ringette is undeniable.
"I live for ringette," says Graham. "I love sport, it's my passion and I never tire of it. To be able to compete in an event like this on the international stage and then have my daughter with me is just awesome. I can't wait to get there.
The World Ringette Championships will take place from October 31 to November 6.