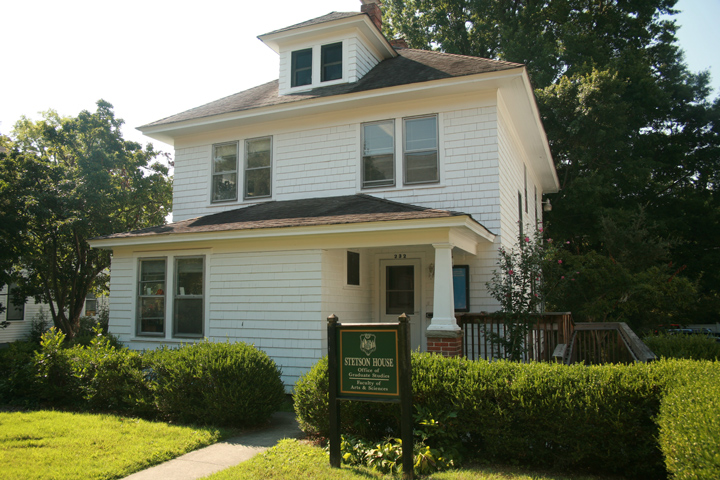 Four graduate students honored with Sanderson Awards for Excellence in Undergraduate Mentoring
Sanderson Prize
The recipients of the 2022 S. Laurie Sanderson Award for Excellence in Undergraduate Mentoring (from left) Heather Baier, Harini Krishnamurti, Jennifer Traver and Rebekah Planto.
Courtesy pictures
by Joseph McClain

|

April 21, 2022

William & Marie's Office of University Studies and Research has announced the 2022 recipients of the S. Laurie Sanderson Outstanding Undergraduate Mentorship Awards.
The awards honor S. Laurie Sanderson, who served as Dean of Graduate Studies in Arts and Sciences from July 1, 2005 to June 30, 2012. They recognize master's and doctoral students in arts and sciences programs who have demonstrated a high degree of commitment to in-class contributions to undergraduate student research and academic development.
"The answers I get from graduate students when they learn that they will receive Sanderson prices are the highlight of my day," said Virginia Torczon, current Dean of Graduate Studies and Research. "They are really honored to have been selected for this award They report the pleasure it gave them to work with exceptional undergraduate students of William & Mary. – one of the best parts of their experiences graduate William & Mary.
Sarah Glosson, director of the Arts & Sciences Graduate Center, noted that the purpose of the Sanderson Prize is to recognize the valuable "under the radar" contributions of graduate students.
"I myself have received Sanderson there for many years," Glosson said. "And the first cycle now appointed me a PhD. And a dozen publications and we are always in contact. So it is very significant for me, for sure.
"As our graduate students prepare for the next steps in their professional careers, they recognize that the experiences they have gained from mentoring undergraduate students will serve them well as teachers, mentors and scholars," concluded Torczon. "It's really a win-win situation for everyone."
---
Heather Baier, PhD student, Department of Applied Sciences
Heather Baier has been a mainstay in Geolab, the rich data collection, student-run, AI-based initiatives at William & Mary. Dan Runfola, assistant professor and director of graduate studies in the Department of Applied Science, says Baier has provided a range of help, advice and support to undergraduate students involved in numerous GeoLab projects.
"Heather was instrumental in setting up a new data collection initiative called the Global Education Observatory, which collected information about school education and made it public – often through law enforcement on freedom of information," Runfola wrote in his nomination of Baier for the Sanderson Prize. "She single-handedly helped motivate and mobilize a group of approximately six students to implement these activities, which enabled undergraduates to work hands-on with education departments around the world. ."
Undergraduate students who worked with Baier supported her nomination for the award: "All geoLab knows how to go to Heather with questions about how to make code work," wrote Maeve Naughton-Rockwell '22.
A data science major, Naughton-Rockwell cited Baier's work with undergraduates having trouble with remote sensing packages such as the Google Earth Engine API.
"I know for a fact that Geolab wouldn't be as productive without Heather," writes Naughton Rockwell. "She played a key role in many articles and project GEOLAB."
Joseph O'Brien '23 wrote that Baier helped undergraduate students write cloud masking scripts for satellite imagery collected by the Global Observatory Team GeoLab student researchers. education. His mentorship extended beyond helping him develop professional skills in machine learning and modeling.
"I believe my acceptance into an internship with the National Park Service was helped in large part by Heather working with me to write and edit cover letters and my resume. "O'Brien wrote.
Harini Krishnamurti Masters program, Department of Psychological Sciences
Catherine Forestell, associate professor of psychological sciences, said she generally mentor 8 to 10 undergraduate students in his lab, as well as a graduate student or two. They work in teams to design experiments and Collect Data.
"I rely heavily on my graduate students to help train me and support undergraduate students in my lab," writes Forestell in Harini Krishnamurti's nomination for the Sanderson Prize. "Nevertheless, Harini stands out among other graduate students because she went above and beyond my expectations in supporting and guiding undergraduate students in my lab.
Forestell wrote of Krishnamurti's inclusion of undergraduate students in research practices, fostering curiosity, a work ethic, and a sense of excitement among students. She cited Krishnamurti's involvement in projects in which students collected data from nearly 500 participants, as well as collecting and analyzing the content of around 1,000 magazine articles.
"I work closely on content reviews and observe first-hand the excellent quality of work. In addition to dramatically improving productivity and quality research, Harini's efforts have instilled a strong sense of community among students," Forestell wrote. "My students and I are grateful for his willingness to share his time and positive energy. »
Matt is Siroty '23 one of those students. He wrote in support of Forestell's nomination that Krishnamurti hosted him in the Child Development and Eating Behavior Lab. He became interested in his own Krishnamurti research, which involves assessing the expression of prejudice against vegetarians.
"Harini invited me into his office to discuss what working on his project would be like," Siroty writes. "Throughout the fall 2021 semester work with Harini, I got to know her on a personal level; she gave me advice on college and careers, we talked about our personal lives, and we discussed our shared passion for psychology."
Another cycle, Leah Kappel '22, also wrote in support Krishnamurti. Kappel is another member of the Eating Behavior Lab and found Krishnamurti a friendly, accessible and helpful resource.
"From the start, she was my go-to person if I had lab-related questions and she was always eager to help and guide me," Kappel wrote. "When I was considering doing an honors thesis, she was a helpful support in the process and provided me with wisdom that only Harini can give."
Rebekah Planto PhD student, Department of Anthropology
Rebekah Planto carried out doctoral fieldwork at the castle, the 17th century site rich in Bacon's history and artifacts. Audrey Horning, the Forrest D. Murden Professor in the Department of Anthropology, finds that Planto included undergraduates in her work.
"By working with Rebekah, students – many of whom she had formally framed in the context of the archaeological field school Summer W & M and Colonial Williamsburg Foundation – have experience and additional expertise on this important archaeological site primitive Virginia "wrote Horning naming Planto.
Through Planto's mentorship, undergraduates learned skills in field, laboratory, and archival methods, "all of which contribute to career development and employability," Horning wrote.
"In a practical sense, Rebekah was a formative influence on Matt Forcier's decision to pursue his Masters in Historical Archaeology. The archival training he received with Rebekah also supported his contributions to a grant-funded project with colleagues in the Department of Anthropology.
Lacy McLain '23 was one of the students Planto mentored during an archaeological field study. Planto taught undergraduate scholars "things that cannot be taught in textbooks," McLain writes.
"She helped all of us come to a course that was almost entirely based on hands-on experience," McLain writes. "She used her experience working at Bacon's Castle to help us understand the rigorous and demanding physical labor that goes into archaeological discovery. As a direct result of his mentorship, I not only received an A in the course, but actually found myself fully understanding the ins and outs of the field upon completion of the course."
Jennifer Traver, Masters Program, Department of Psychological Sciences
Danielle Dallaire pointed out in her nomination letter that Jen Traver graduated in 2019 from the undergraduate program in the Department of Psychological Sciences and returned right away to enroll in the master's program in 2020.
"I think maybe because Jen was a W&M UG, she really has a better understanding of W&M UG students," writes Dallaire, a professor in the department. "Although our lab was mostly online during the 2020-2021 academic year, she went out of her way to mentor the 9-10 UG students in my lab."
Dallaire notes that Traver helped undergraduate students prepare posters for conference presentations as well as a number of papers submitted to peer-reviewed journals. She said Traver also worked with students to design an in-person study that launched last year and has mentored several honors undergraduate theses.
Grace Phillips '23 wrote in support of Traver's nomination, regarding that the two met through the Beginnings Health Research Lab. Phillips said Traver has been more useful in another project, one that uses EEG to study neurological biomarkers of stress resistance in college students.
"None of this would have been possible without Jen. It would no doubt have been easier to conduct herself, she chose to fully include me in the research from start to finish," writes Phillips. "Jen works tirelessly to ensure that every member of our research lab feels included, understands our project goals, and can voice their ideas in our meetings."
Dallaire said Traver has been "an outstanding role model" for Phillips and a number of other undergraduate students in the psychology department.
"She helped them prepare graduate school applications, she worked with them on data analysis," Dallaire wrote. "I'm impressed with how patiently she works with them to analyze their data, so they understand how to do it themselves. »