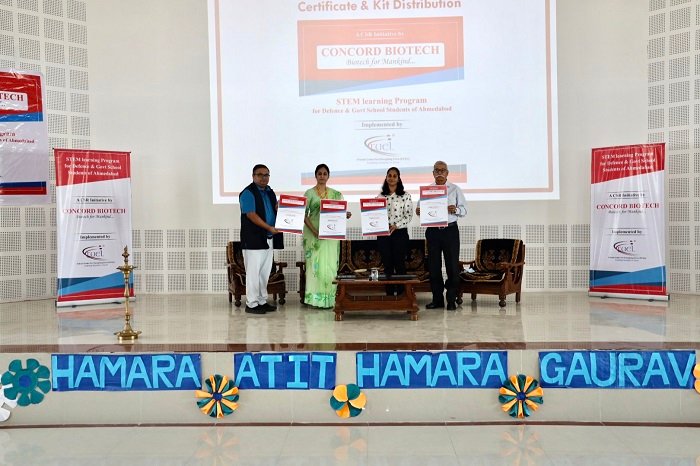 CSR: Concord Biotech and FUEL launch STEM learning and academic coaching for defense school
Ahmedabad: Concord Biotech Ltd and Friends Union for Energizing Lives (FUEL) have started providing STEM coaching to students at Defense School Ahmedabad and establishing two STEM labs at government schools in Dholka as part of Concord Biotech's CSR initiative. In association with Concord Biotech, FUEL to support defense school students with STEM learning and academic coaching during their milestone year.
Colonel SK Vaid, Director of Administration and Megha Vaid, Director of General Affairs, Concord Biotech, and Ms. Sangeeta Patel, Director, APS Ahmedabad graced the event. The principal expressed his sincere thanks to Concord Biotech and FUEL for providing the much-needed academic coaching to Defense School students, as well as Happiness Kits which include a school bag, notebooks, pencil, a pen, notepads and a T-shirt. 5 Students have been selected for scholarships who have performed well in the aptitude test conducted by FUEL and who come from needy families and the defense sector.
In addition to STEM learning and academic coaching, FUEL will focus on:
Increase students' self-awareness by introducing them to future technologies by hosting a workshop.
Educate them on various career paths and futuristic skills
Help them pursue their chosen path by hosting industry expert sessions
Colonel SK Vaid, Director of Administration, Concord Biotech explained how the organization has evolved and now has the vision to make India a hub of biotechnology by making it ready today. He also explained the various pioneering work that Concord Biotech is doing and has a very strong CSR wing to support the community as a whole.
"We are thrilled to partner with Concord Biotech to impact the Defense School and Government School in Ahmedabad District. We wish to work closely with school children as they are a builder of New India and this is a very crucial age where a child's brain can be molded with better direction and guidance," said Ketan Deshpande, Founder and CEO, FUEL.
(CSR India)
Source:
India CSR I May 20, 2022