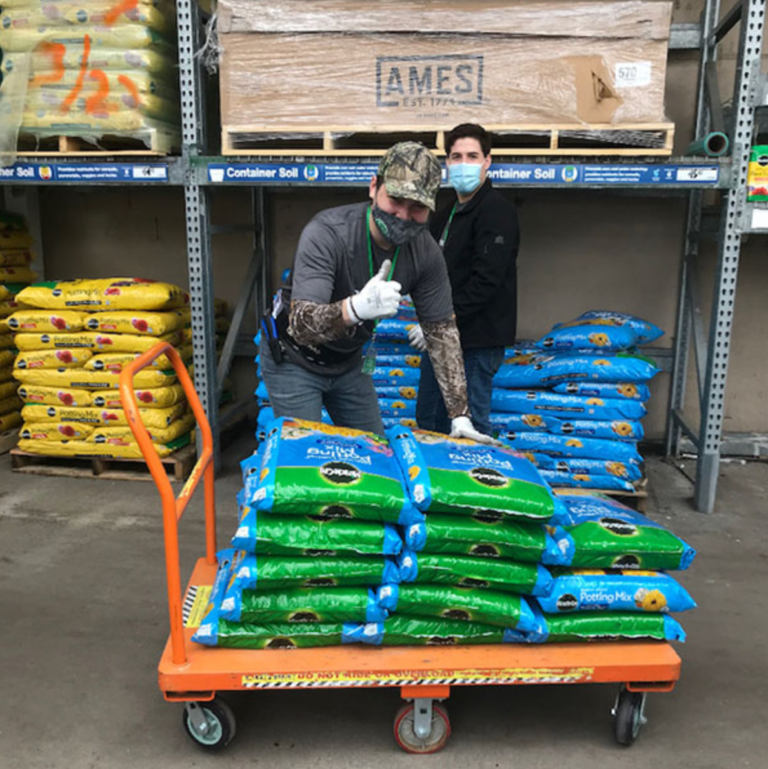 Coaching that changes the game and improves life
[ad_1]
Posted 14 hours ago
Proposed by Scotts Miracle Gro
Chris never thought that his love of the sport would one day translate into his job as a sales manager. While coaching young children in various sports, he performed the basic duties of teaching skills, performing drills, and preparing his young players for the game. But everyone he has coached knows he was doing. much more than that.
From the field to the store
Chris joined ScottsMiracle-Gro as a Merchandiser in Spring 2016 and is now in his third season as Sales Manager. Two of her team members Jessie and Elliott are part of a program called Ken's Krew. It is an organization created in 1997 by parents who were looking for a post-secondary path to employment for their children with intellectual disabilities.
Candidates apply for the program and are placed with a partner company after an assessment phase which ensures that the program is well suited. The approach to working with our Ken's Krew associates focuses on the structure and routines of their daily work. This was done in order to create the perfect environment to help them thrive personally and professionally.
The ultimate reward
Working with VP Field Sales Stephen, Regional Sales Manager Brendan and Regional Market Manager Joe, Chris provided hands-on training for Jessie and Elliott. He showed them in-store execution, from product packaging to safety awareness while working in the store. He also prepared them with product knowledge training so that they could answer any consumer questions to improve their lawn or garden.
The Territory 56 veteran team helped speed up the learning process. Chris says, "I've gotten to know Jessie and Elliott really well since we've been working together every week. They were both very shy when they started. They even lived in the same apartment complex and did not know each other. Now they hang out together on the weekends, and I've seen so much confidence in myself. It is so gratifying to see.
Teamwork always translates
When it comes to coaching, Chris says he uses a lot of sports analogies and bases many aspects of the job around a sports theme because it is easy to relate to. "I guess being a coach has helped me as I've developed my career," he says. It is most certainly true.
In October as part of National Disability Employment Awareness Month (NDEAM), our company has been recognized by the New York State Department of Education for its inclusive hiring practices and diversity in the workplace. The virtual ceremony included parents who spoke about the positive impact that was made on their child. They might not have had that kind of opportunity if there were no such programs.
Beyond skills for the job, Chris taught social skills, discipline, patience and teamwork. And to our associates at Ken's Krew, he will most likely leave a lasting impression, a hallmark of any great coach.
Learn more about Ken's Krew
Ken's Krew is an organization that started in 1997 with the support of Ken Langone, co-founder of Home Depot. It was created with the belief that every individual deserves the chance to enter the workforce, earn a fair wage and reach their full potential. For this reason, Ken's Krew offers job placements, training and support to people with neurodevelopmental disabilities through competitive employment.
Scotts Miracle Gro
Scotts Miracle Gro
About ScottsMiracle-Gro
With sales of approximately $ 3.2 billion, the company is one of the world's largest distributors of branded consumer lawn and garden care products. The Company's brands are among the most recognized in the industry. The Company's Scotts®, Miracle-Gro® and Ortho® brands are market leaders in their categories. The company's wholly owned subsidiary, The Hawthorne Gardening Company, is a leading supplier of nutrients, lighting and other materials used in the indoor growing and hydroponics segment. For more information, visit us at www.scottsmiraclegro.com.
More Scotts Miracle Gro
[ad_2]