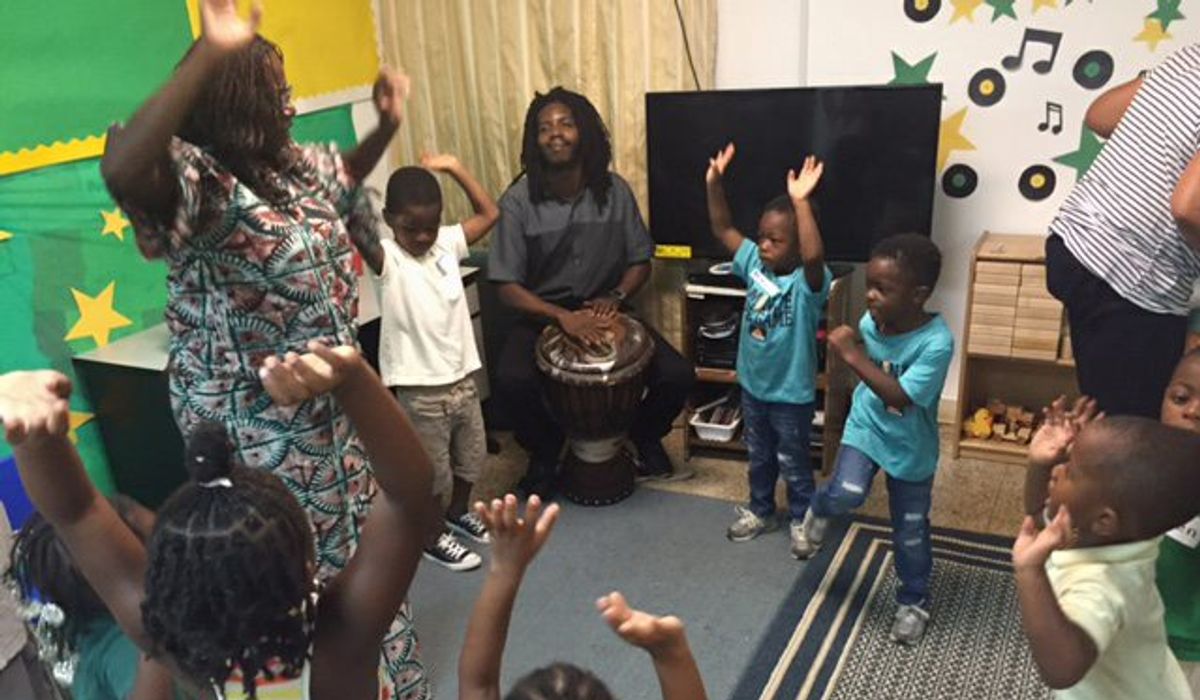 Artists Teaching Inner City-Inner Child Adopt Alternative Styles To Reach Different Children
Each preschooler sitting on the classroom mat held a drum – some made from empty coffee cans, others from buckets of sand with neon tape stretched through the opening.
But they all wanted a spin with the caxixi shaker, a hollow gourd covered with a net sprinkled with puka shells.
"It's kind of like a pumpkin," Sylvia Soumah said. "Does anyone like Halloween?" "
His question sparked enthusiastic discussions about Halloween candy. This may not have been the direction she wanted, but for Ms. Soumah, known to her students as "Mama Sylvie", there is no wrong answer.
Ms. Soumah is an artist-teacher for Inner City-Inner Child (ICIC), an arts awareness program that works with preschools in low-income areas of the district.
Since she started working with the program 20 years ago, her goals have been simple: to inspire children to learn, while keeping an open mind to diversity.
Diversity comes in all its forms and isn't just limited to the language you speak or how you look, Ms. Soumah said. Diversity in learning is often overlooked in the classroom, as "children are placed in boxes" and little attention is paid to diversity in learning and teaching styles, she said. declared.
Children can be auditory, visual or practical learners, she said. Especially for children with disabilities, alternative learning styles are the most effective.
Ms. Soumah considers herself an outsider and sees her work as a teaching artist as an opportunity to fight for those who are like her.
"Sometimes African American children are at a disadvantage because they don't have the same opportunities in the classroom," she said.
ICIC Executive Director Ingrid Zimmer said the biggest impact the program can sometimes have is simply involving a child who previously was unresponsive.
In a learning center in the South East, children sat in a circle, forming a stage for 4-year-old Jaella to dance. Her movements were haphazard and jerky, Ms. Zimmer as Jaella had made incredible progress.
The preschooler lost her father to gun violence a few months ago and had "shut down", she said. The dance was Jaella's first time engaging with the class since then.
For the six low-income centers that the ICIC selects each year, its three-month program proposes to improve students' skills in math, art, and literacy, and to engage students with developmental challenges and society or who have suffered a traumatic event.
Teachers call this fusion of performing arts and traditional subjects "arts integration", a teaching tool that is growing in popularity. Instead of students learning subjects in isolation, programs like ICIC's "Dancing with Books" use music, dance and art to help them fully engage with a book's content. of images.
Finding the right book is no easy task, Zimmer said. It should be few words per page and inspire the teaching artists to create an original song, dance and art project that they will then use to convey the themes of the book.
Karen O. Brown, a visual artist for the program, uses books to create a "kid-inspired and led" program. She encourages the students to tear the paper rather than cut it. Using their imaginations, the shreds become buildings and trees, a library or a school.
The content of the book should also meet preschool standards, covering topics such as weather, transportation, and emotions.
Two decades earlier, the content wouldn't have mattered so much. When Ms. Zimmer's mother, Connie, founded the program in 1994, there were no curriculum standards in place for preschool education and many centers were not accredited educational programs.
Connie Zimmer's first role in the arts community began when she founded Dumbarton Concerts in the 1960s, a "boutique" concert hall focused on intimate listening.
The concert series, now approaching its 40th season, has hosted renowned musicians and singers including the Vogler Quartet and the acapella ensemble, Nordic Voices, but perhaps its greatest achievement has been its outreach program. arts, which affects more than 3,000 children, ages 2 to 5 each. year.
When her mother retired three years ago, Ms. Zimmer took on the role of Executive Director of ICIC and has since worked to develop the program.
While the program initially focused on improving standards in early childhood education, today Ms. Zimmer's focuses on "unlocking" the minds of children.
Using your imagination is an intuitive skill for kids, says Ms. Zimmer, but if you put a child in front of a TV for too long, they may forget what was natural at first.
It's not that parents intentionally discourage this skill, but sometimes what comes naturally to children is considered bad behavior. To achieve this, the ICIC also trains teachers and offers workshops in which parents and children can participate together. From an investment perspective, early childhood education produces the "highest return," said Ms. Zimmer. Recent studies suggest that 80 percent of brain development occurs between ages 0 and 5, making preschool and preschool programs the best time to take action.
According to the State Education Agency for Adult Education and the Washington Literacy Council, 61% of low-income families do not have books at home for their children, while 80% of daycares serving low-income children do not. of books at all.
Each child who completes the program receives a new backpack full of books – many of them have never owned a book before.
Students don't just learn to dance, sing and create.
At the start of the three-month program, less than 60 percent of students at St. Timothy's Child Development Center and Randall Hyland Private School were meeting or exceeding grade-level artistic skills. In the end, all students met or exceeded expectations.
By teaching them visualization – a pre-math skill – their math scores also showed dramatic improvement. Before the program, 30 percent had grades at the standard grade level, by the end, 85 percent.
Community learning centers are essential for quality preschool education, Ms. Zimmer said. They often get to know the children over a long period of time and offer more personalized instruction.
Just as Ms. Zimmer inherited the ICIC from her mother, many daycares in the DC area are family businesses.
But these centers, such as Big Mama's in Anacostia, a neighborhood feature that has been at the heart of the community for years, have faced new challenges since DC introduced universal preschool into the public school system.
When Bridget Hall's parents bought the property where Big Mama's is located, the large brick building was underused. A small liquor store occupied meager real estate on the grounds. It seemed like a natural fit for her mother to divide the building, and although a liquor store and daycare are an unlikely couple, the two businesses continue to coexist.
For Big Mama's, the rush of children into the public system means the loss of public funds.
For families who want their children to stay in local community centers, where classes are small and the quality of education is high, they should apply for school vouchers, a quick and difficult process.
Rather than navigating the bureaucracy, more and more children are entering the public system where individual attention is scarce and common basic standards require excessive testing.
"Schools test at such a young age that children don't develop a love of learning because learning is no longer fun for them," Ms. Zimmer said.
For children who stay in community centers, resources are dwindling. As the program progresses, Zimmer said they will focus on helping the remaining centers, while adapting their program to serve public schools as well.
For the upcoming school year, Ms. Zimmer wants the program to focus on the idea of ​​"trips" and the idea that a book can take you anywhere.
While the road to college is still a long way off, preschoolers are already aiming high.
"Who's going to college? Asked Mrs. Soumah.
Each hand in the class shot up to the sky.