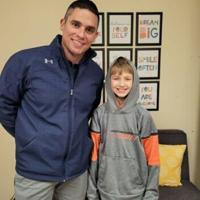 All in Mentoring matches local students with mentors | Waverly Logs
All in Mentoring (AIM) is a school-based mentoring program in the Waverly-Shell Rock community. AIM partners with W-SR School District and St. Paul's Lutheran School to match adult mentors with K-6 students. To date, AIM has matched 20 mentors with children in need of an extra positive, supportive person in their lives. Their goal is to serve 50 children by the end of the 2022-2023 school year.
AIM currently offers a school-based mentorship program. Mentors meet with children at school for 30 minutes each week during the school day. Kindergarten through 6th graders in the Waverly-Shell Rock School District, including St. Paul's and the Lied Center, can enter. Mentee/mentee pairs can do activities that interest the mentee, such as playing games, reading, doing crafts, and playing ball together.